A Luxury Home Theater Built for Incredible Entertainment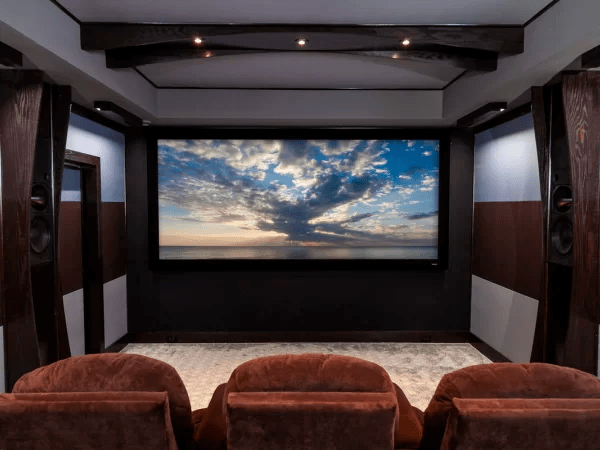 Movies Are Made to Be Seen on the Big Screen; A Home Theater Brings the Experience Right to You.
Movies are a medium like no other, combining all of the arts into one experiential moment. Film has the power to sway our emotions, making us laugh out loud, bring us to tears, and cheer - often all at the same time. A good movie allows us to inhabit the character, offering a moment of living another character's life.
The environment in which you watch dramatically affects how you experience the story on screen. Movies are made to be shown in theaters, in dedicated 'Sanctuaries of Dreams' as the great critic Roger Ebert once put it. Your sole focus is on the action before you, immersed in the visual and auditory presentation in these rooms.
A luxury home theater in your Washington, D.C. home can bring the ultimate cinematic experience right to you. To find out how our expert team can create this for you, keep reading below.
SEE ALSO: Foster A Healthier Living Environment With Cutting-Edge Technology
A True Cinematic Experience
Having a custom-built space dedicated to presenting films in the way the directors intended truly brings the cinema home. Designed to complement your aesthetic, a home theater is more than building a box around a media room. Incorporated into your complete smart home installation, you can be immersed in a movie while still overseeing the security and operation of your home.
The blending of high-performance technology presentation systems with a specially designed and calibrated space requires an expert installation. Whether you are looking to recreate the atmosphere of Golden Age cinemas or prefer a more modernist take, the goal is to generate the perfect viewing experience.
Acoustical Treatments
When we speak of how a room sounds, it is often framed in terms of technology, and while the right speakers do matter, how the space reacts is just as important. The shape, size, and furnishings of a room can alter a room's sound for the better.
Using strategically placed acoustic treatments prevent distortions, flattened sound fields, or the absorption and loss of frequencies. Installing precisely made panels provides a balanced sound, ensuring that every seat is located in the 'sweet spot.'
The acoustic materials come in a variety of shapes, colors, and designs. Whether the treatments are integrated into the decor or hidden, you willfind the perfect fit for your personal cinema.
Projector and Screen
Movies are made to be seen on the 'big screen' where they are unbound by TV'srigid, black frames. Your viewing experience should not be limited to the dreaded 'modified to fit your screen' formats; this removes critical perspectives the directors intended. Choosing the right combination of projector and screens goes a long way toward making the experience immersive.
A screen may seem innocuous, but it is a highly technical component. Far from being a passive device, the type of screen enhances an image based on the room's environment. Some screens use optics to reflect light to compensate for any ambient lighting, while other screenswork to diffuse light for a more even image. Projection screens provide a crystal-clear, detailed picture that a blank wall cannot match.
The home theater projector delivers not just standard 4K, also called Ultra-High-Definition (UHD), but also 4K Digital Cinema Initiatives (DCI). 4K DCI is the aspect ratio used by movie houses. It is more expansive and incorporates more pixels, accommodating the cinemascope formats. The unsurpassed color and depth of field these projectors generate blur the border between reality and the story on screen.
Immersive Surround Sound
Surround sound is the one element most of us instantly point to when describing a home theater. The power of the system to fill the room with crisp, detailed sounds - from the sound of a bee flying by to the roar of Michael Bay explosions - leaves an impression.
With sound that seemsto come from in front of you, behind you, or even from above, you create a three-dimensional environment that brings life to movies, TV shows, and evenvideo games. The speakers can be invisible, hidden in the walls and ceilings, or incorporate into your decor with beautifully polished floor-standing models. The speaker system envelops you into the action on the screen, the nuances of sound making you feel as if you are a participant in the storyline. Audio puts the experience in experiential.
Are you ready to enjoy movies, sports, and video games in a way that will excite you to jump into your seat and hit play?Give our team a call or fill out our online contact form here. We'd love to bring the joy of a luxury home theater to you!
Stay Informed
When you subscribe to the blog, we will send you an e-mail when there are new updates on the site so you wouldn't miss them.
Comments
No comments made yet. Be the first to submit a comment